Call me old fashioned, and I speak as a former Army and RAF officer, but I think both the British and the Scottish Public like to see their Armed Forces parading in public in a disciplined, smart and soldier-like fashion. We rightly abhor the thought of our Servicemen and women appearing at political events.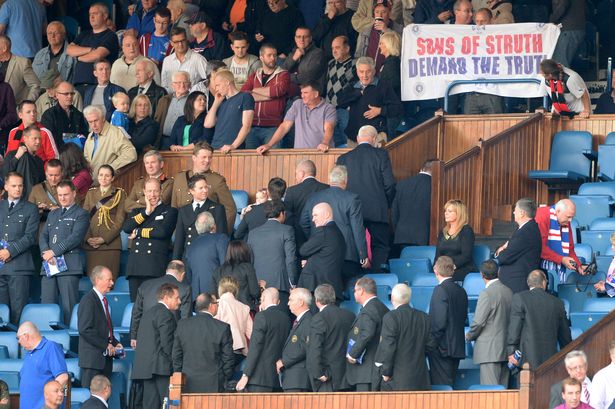 Brass and Bag Carriers in the Directors' Box at Ibrox.
One has to question the judgement of the Flag Officer Scotland & Northern Ireland, GOC Scotland and Air Officer Scotland in allowing the participation of over 400 Armed forces personnel in the Ibrox Armed Forces Day event on Saturday at all. We have a national Armed Forces day in June each year. Rangers Football Club only wishes to lionise the Armed Forces to lend a respectability to the ugly, British Nationalist, SDL-style unionist sectarianism of the Neanderthal element among their supporters.
What possible positive PR did the Brass hope to gain from parading over 400 troops at the most sectarian club in Scotland? I'm at a total loss. Thankfully for them the shameful scenes have been edited out by the mainstream media.
This piece for STV News
appears to have been written before the event. The
Daily Record's match report
merely mentions the participation of over 400 Armed Forces personnel. Only Roy Greenslade in the
Guardian Blog
covers the story. Has a D-Notice been slapped on reporting of the event?
It surprised some folk when I argued against the participation of uniformed Armed Forces personnel in Gay Pride marches. I thought I was stretching the argument to its limits when I made the point that, if personnel were to participate in uniform at Gay Pride parades, what would there be to stop a soldier who wished to take part in an Orange March in uniform, orange sash and all? I never dreamed we would see sickening sights like these (videos are dropping off YouTube like flies, the first video has been replaced):
Even if one accepts the decision by the Brass to participate in this event at some considerable cost to the public purse for no conceivable PR gain; why on earth were the troops not paraded onto the field in 3 ranks and paraded off again in 3 ranks? At least taxpayers would have been spared the sickening sight of an ill-disciplined rabble of troops cavorting, clapping and cheering songs and chants including UDA, UVF and references to dead hunger striker Bobby Sands MP.
All this came less than a fortnight after a
Celtic fan was convicted
of "sectarian and offensive conduct" during Dundee United's Scottish Premier League match with Celtic in November last year for singing the H-Blocks Hunger Strikers song, Roll of Honour.
Quite apart from the bad PR in Scotland, this PR disaster for the Armed Forces is even worse in
Northern Ireland
. Let's hope this is the last time we see British or Scottish troops participate in anything like this.
For the avoidance of doubt, I am neither a Roman Catholic (I am an atheist) nor a Celtic fan, indeed the only football team I support is Scotland.
See also:
Bella Caledonia:
On Parade
.
Newsnet Scotland:
Journalist questions media silence after military day 'sectarian chanting' at Rangers game
.
Update: Alex Thomson at Channel 4 News has picked up the story and is questioning the MoD:
Armed forces' involvement in a sectarian Rangers 'party' a PR disaster
.
Update 18:45: Not quite last with the news, The Hootsmon has
picked up the story
and the
BBC
has risked the Union by broadcasting anodyne footage of the march-on and abseiling with the MoD's statement that the matter was under investigation and troops found to have engaged in sectarian behaviour would face disciplinary and police action.
Comment
: Forget the troops, some will be Rangers fans, some will be BritNat or 'Proddy' heidbangers. That's not the problem - what they support or do in their own time is their business. The problem is that they were allowed by their officers to get involved in this sickening sectarianism in the first place. Could or would the MoD supply half time spectacles at every other football club? Of course they couldn't. Therefore this should be the last time the MoD supplies troops for this sectarian BritNat fest at Ibrox.
Update 19:30: This is a better video with better sound, it also shows that I overstated the case in referring to a "march-on". It's no wonder that the troops had to amble on, given that you couldn't call the Army Pipe & Drum Ensemble a band after years of MODUK cuts. I'll bet only the first 20 files could hear them.
Slugger O'Toole:
Rangers' Armed Services Day descends into an undisciplined act of self undoing
.
Scots Law Thoughts:
Rangers and Armed Forces Day – Whataboutery and Bad Judgement
.